COVID-19 pandemic response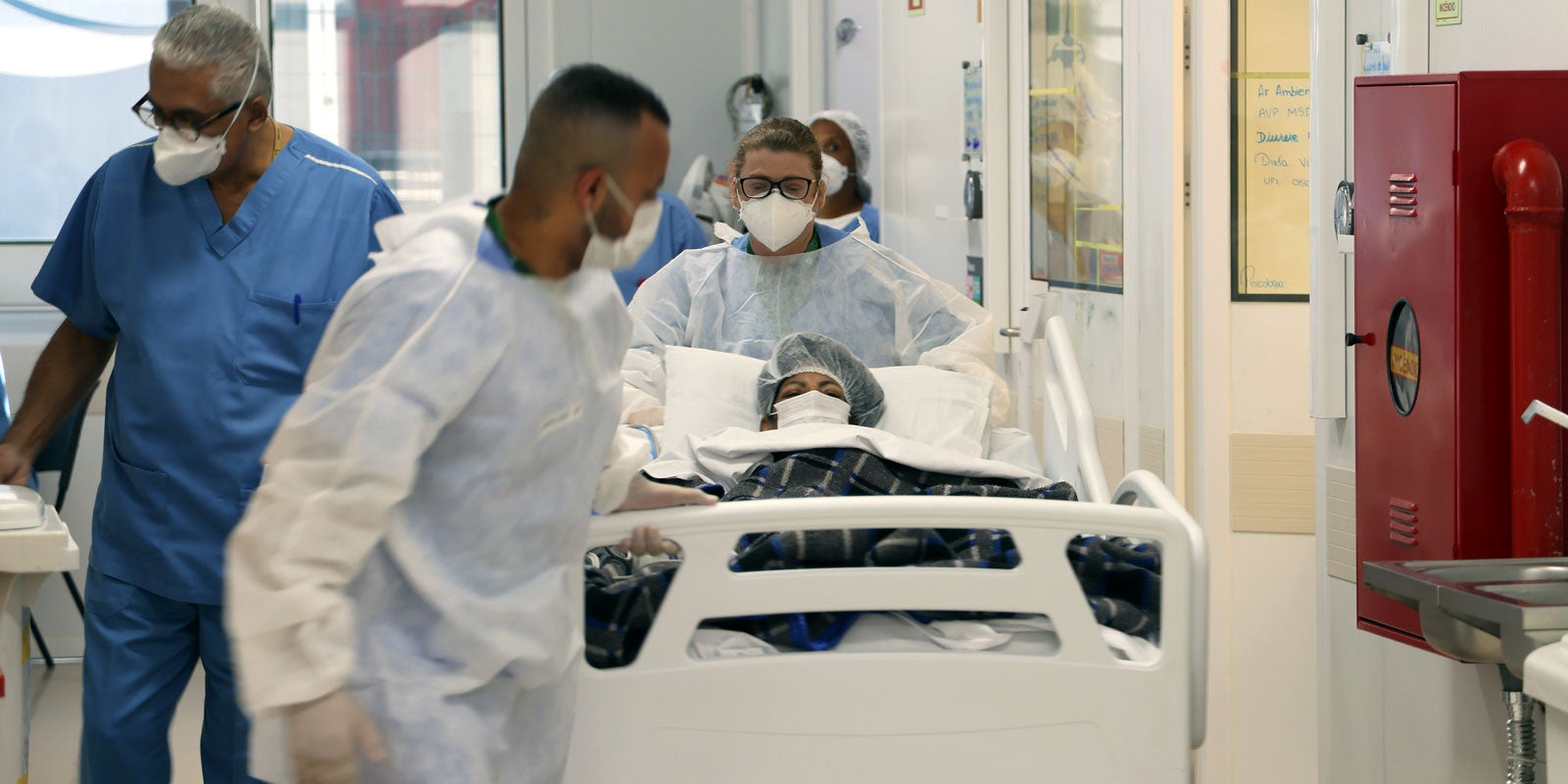 Since the onset of the pandemic, PAHO has activated different response mechanisms at all levels to support the countries and territories of the Region in tackling and mitigating the impact of the COVID-19 pandemic. Through the regional Incident Management Support Team created in January 2020, PAHO has provided direct emergency response to ministries of health and other national authorities ().
The Bureau's technical cooperation was undertaken within the framework of the ten pillars of the PAHO COVID-19 response strategy, which is closely aligned with the WHO 2019 Novel Coronavirus (2019-nCoV) Strategic Preparedness and Response Plan (,). The pillars are: 1) coordination, planning, financing, and monitoring; 2) risk communication, community engagement, and infodemic management; 3) surveillance, epidemiological investigation, contact tracing, and adjustment of public health and social measures; 4) points of entry, international travel and transport, mass gatherings, and population movement; 5) laboratories and diagnostics; 6) infection prevention and control, and protection of the health workforce; 7) case management, clinical operations, and therapeutics; 8) operational support and logistics, and supply chain; 9) strengthening essential health services and systems; and 10) vaccination.
According to the Global Health Security (GHS) Index, prior to the pandemic, countries around the world were insufficiently prepared to deal with a pandemic of the magnitude of COVID-19 (). The index measures six categories: 1) prevention; 2) detection and reporting; 3) rapid response; 4) health system; 5) commitments to improving national capacity, financing, and adherence to global norms; 6) risk environment. The global average value of the index was 38.9 on a scale of 0 to 100, and for the Region of the Americas, 42.7. Figure 11 shows the value of the index for the countries of the Region included in it.
Figure 11. Global Health Security (GHS) Index and mortality in the Region of the Americas, by country, 2021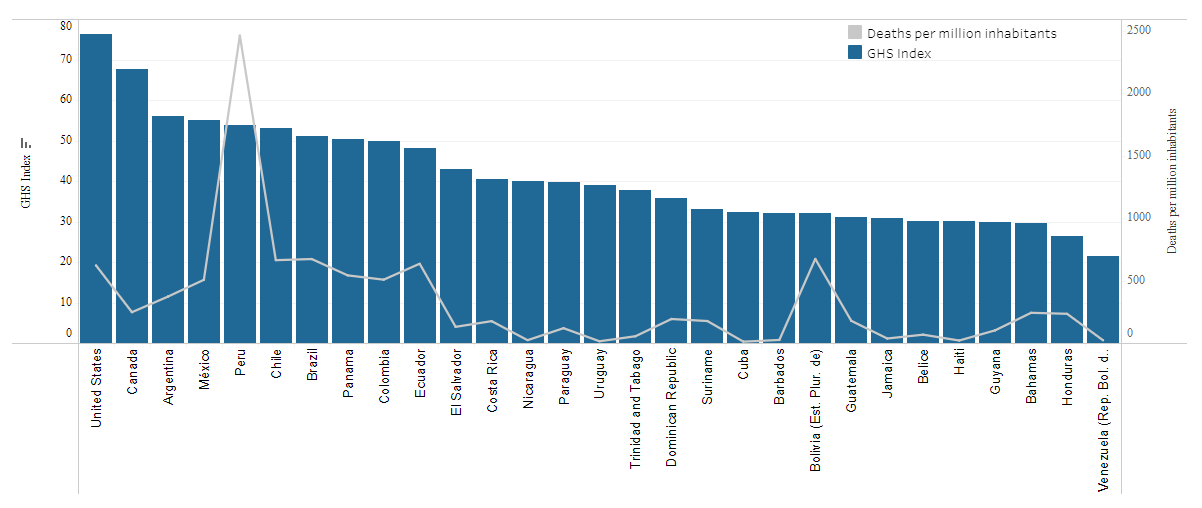 Sources: 1 Bell JA, Nuzzo JB. Global Health Security Index: Advancing Collective Action and Accountability Amid Global Crisis, 2021. Washington, DC: NTI; 2021. Available from: https://www.ghsindex.org/wp-content/uploads/2021/12/2021_GHSindexFullReport_Final.pdf.
2 Ritchie H, Mathieu E, Rodés-Guirao L, Appel C, Giattino C, Ortiz-Ospina E, et al. Coronavirus Pandemic (COVID-19). [no location provided]: OurWorldInData.org; 2020. Available from: https://ourworldindata.org/coronavirus.
With respect to COVID-19 mortality and the GHS Index (Figure 11), the average level of preparedness and response capacity was 44.4 in South America. However, one country in this subregion had the highest mortality in the Region, which suggests differences between what was planned and what was implemented.
Initially, most countries adopted similar strategies: a national emergency declaration or the equivalent was issued, multisector technical groups were formed in several countries, and health agencies were strengthened and expanded (). In general, the national health authority assumed primary responsibility for the design and implementation of actions aimed at containing the pandemic (,).
Most governments in the Region declared the suspension of non-essential activities, some partially and others throughout their territory, in attempts to contain the spread of the virus within each country. In many cases, air, sea, and land borders were closed and only the time of reopening differed (earlier in countries with tourism-based economies) (,). Schools, universities, food outlets, and workplaces were also closed to ensure social distancing. Depending on the country, mandatory or voluntary use of masks in public and enclosed places was implemented and restrictions were established on traffic schedules ().
Another measure recommended by government authorities was to request a negative COVID-19 test to enter countries by air, land, or sea (Canada, Chile, Nicaragua, Panama, and the United States), in addition to establishing a mandatory quarantine when entering the country (Colombia, Cuba, Ecuador, and Honduras) (,).
Testing
Real-time polymerase chain reaction (PCR) testing is the cornerstone of infectious disease diagnosis and COVID-19 has been no exception. However, an initial concern was that cases could not be detected in respiratory tract swab samples, because the test's sensitivity level was in the 60-70% range. Later, it was shown that sensitivity was higher, depending on the time elapsed since infection and on the quality of the sample (5-7 days after infection, taken in the nasopharyngeal airway).
Considering the great importance and need for diagnostic tests throughout the Region, and PAHO's role in providing technical support to countries during the COVID-19 emergency, the Organization developed a methodology to establish a rapid technical evaluation process for diagnostic tests and support their procurement. The evaluation included reviewing a product's compliance with regulations, technical requirements, and established standards.
The relationship between the daily number of tests performed and the number of new confirmed cases per million population was determined for countries in Asia and the Americas (Figure 12) (positivity rate is shown on the diagonal lines). As can be seen in the figure, countries in the Americas generally performed fewer tests per million population than countries in Asia, with higher percentages of positive cases. This suggests that fewer tests were carried out in the Americas than were necessary to monitor and contain the pandemic, implying an underestimation of daily cases.
It also suggests that an effective strategy to contain the pandemic was to apply the evidence associated with a rigorous monitoring strategy, as can be observed in the experience of some Asian countries (upper left quadrant in Figure 12), such as the Hong Kong Special Administrative Region (China) and the Republic of Korea.
Figure 12. Daily tests and new daily confirmed cases per million population, selected countries in the Americas and Asia, as of 6 May 2020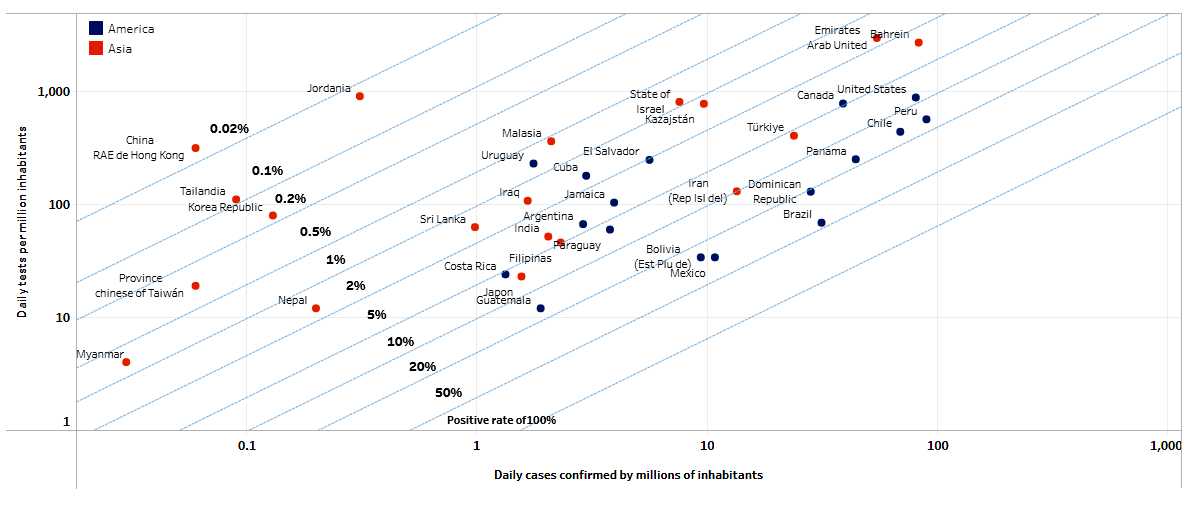 Source: Ritchie H, Mathieu E, Rodés-Guirao L, Appel C, Giattino C, Ortiz-Ospina E, et al. Coronavirus (COVID-19) Testing. [no location provided]: OurWorldInData.org; 2020. Available from: https://ourworldindata.org/coronavirus-testing.
Personal protective equipment
PPE has been essential since the onset of the pandemic for the protection of both the general population and health personnel. The PPE shortage was one of the first consequences of the pandemic. As countries declared the COVID-19 health emergency, an unexpected, synchronous, and accelerating increase in demand for certain medical devices led almost immediately to shortages and sharp price increases. This affected masks, in particular, and led authorities and health personnel to explore alternatives to protect health personnel from infection by the SARS-CoV-2 virus.
PAHO recommended that regulatory authorities expedite their reviews in emergency situations and establish procedures for relying on the decisions of other recognized regulatory authorities, rather than conducting full or abbreviated reviews that should be conducted by trained personnel. Through these procedures, a risk-based evaluation by a trusted or reference authority is recognized as valid for a given product during an emergency. The countries that adopted these measures significantly streamlined their supply procurement processes in response to the pandemic.
Biomedical equipment
Biomedical equipment played a key role in each phase of the pandemic. Among the devices used the most are equipment for respiratory therapy and monitoring of signs, including mechanical ventilators, oxygen concentrators, high-flow nasal cannulas, bi-level and continuous positive airway pressure devices, pulse oximeters, thermometers, and vital signs monitors. Unfortunately, access to biomedical equipment was also affected by the global emergency. The high demand for equipment and disruptions in supply chains caused shortages in most countries of the Region. PAHO provided support for the creation of a regional sub-working group in order to promote the exchange of experiences and good practices.
Other challenges that regulatory authorities faced during the pandemic included shortages of registered products and the presence of new, unregistered products, as it was mandatory to ensure that devices met the minimum technical specifications to provide safe care to patients, and to verify their compliance with national and international standards. A further difficulty was the presence of substandard, falsified, and unregistered medical devices on the market; deficiencies in quality management systems when manufacturers increased their production lines; and the development of other medical devices arising from entrepreneurial initiatives.
Pharmacological treatments
In many countries in the Region, national regulatory systems were not prepared to respond to the public health emergency resulting from the pandemic. In such situations, it is necessary to evaluate the quality, safety, and efficacy of diagnostic tests, vaccines, and treatments, and to approve their use. The regulatory evaluation process needs to be accelerated, since the countries receiving these products are responsible for the safety of their population and must make swift decisions.
The ongoing pandemic experience has highlighted some of the best practices and most efficient measures for regulatory action during an emergency, despite the fact that COVID-19 is unprecedented in terms of its scope and duration. These measures include: 1) publication of the lists of products needed to tackle COVID-19; 2) evaluation and approval procedures, with flexible mechanisms such as emergency use authorizations, compassionate use authorizations, extended renewals and extended validity of authorizations, certificates, and licenses for products, establishments, importers, and distributors; and 3) prioritization of importation processes.
Faced with the inappropriate and non-evidence-based use of medicines for the treatment of COVID-19, several countries of the Region, including at the level of public institutions, promoted the rational use of medicines, PPE, and other health technologies through different science-based strategies.
At least two mechanisms have been employed in the development of medicines to treat COVID-19: reuse of existing medicines in order to identify potential effects, and frontier research for new medicines. The first medicines that proved to be effective were systemic corticosteroids (dexamethasone) in severely and critically ill patients. In these cases, they initially resulted in a 21% relative reduction in mortality (). In July 2021, this was followed by interleukin-6 receptor blockers (tocilizumab or sarilumab) in patients with severe or critical COVID-19, groups which showed significant improvements in mortality, mechanical ventilation, and length of hospitalization ().
More recently, in September 2022, recommendations were issued and updated for the use of monoclonal and antiviral antibodies in specific populations. Currently, WHO and PAHO recommend the use of corticosteroids, tocilizumab, and baricitinib in severe or critical patients (,,). In non-severe patients, the proposal is to use nirmatrelvir combined with ritonavir (strong recommendation), molnupiravir and remdesivir (conditional recommendation), especially in patients at high risk of complications (unvaccinated adults, older persons, and persons with comorbidities such as immunosuppression). The recommendations on the use of monoclonal antibodies (such as casirivimab combined with imdevimab and sotrovimab) were amended (recommendation to not use) due to their ineffectiveness against the omicron variant (,).
Experience with other coronavirus outbreaks suggests that the pandemic will have a significant impact on blood supplies, due to reduced donations (). According to a survey carried out in the countries of the Region in 2020 (), as well as the 2022 preliminary report on blood supply, countries with better levels of governance (stewardship, coordination, and organization of services) have a higher proportion of voluntary donation and more efficient blood systems, with less fragmented collection and processing models, and adequate donation information systems, resulting in less impact on blood supply during the pandemic.
Vaccination
In December 2020, vaccination against COVID-19 began in Canada, the United States, and four Latin American countries (Argentina, Chile, Costa Rica, and Mexico). In the other countries, vaccination began in the first quarter of 2021. COVID-19 vaccination coverage in the Region has reduced mortality rates (,).
The vaccination process has proceeded at different speeds in the Region. Countries' demand for rapid access to a limited supply of vaccines affected equitable access in 2021. Heterogeneity in the vaccination process was initially determined by asymmetrical access to vaccines resulting from production and advance procurement by high-income countries, and also by an initially limited supply—shortages that made it impossible to meet the agreed needs. With its four decades of experience in providing vaccines to the Region, PAHO supported Member States through the Revolving Fund for Access to Vaccines in order to expand equitable access to COVID-19 vaccines in Latin America and the Caribbean.
Although Latin America and the Caribbean has improved its relative position in terms of advance procurement of vaccines, access remains asymmetrical, with respect to both acquisition and distribution. As of 2 September 2022, 69.4% of the population of the countries of the Region of the Americas were fully vaccinated against COVID-19; 17 countries had reached the target of 70% vaccination coverage and 41 exceeded 40% coverage; 10 countries were still below 40%, and one was below 10% (Figure 13).
Figure 13. Coverage of the complete COVID-19 vaccination series in the Region of the Americas (%), as of 10 September 2022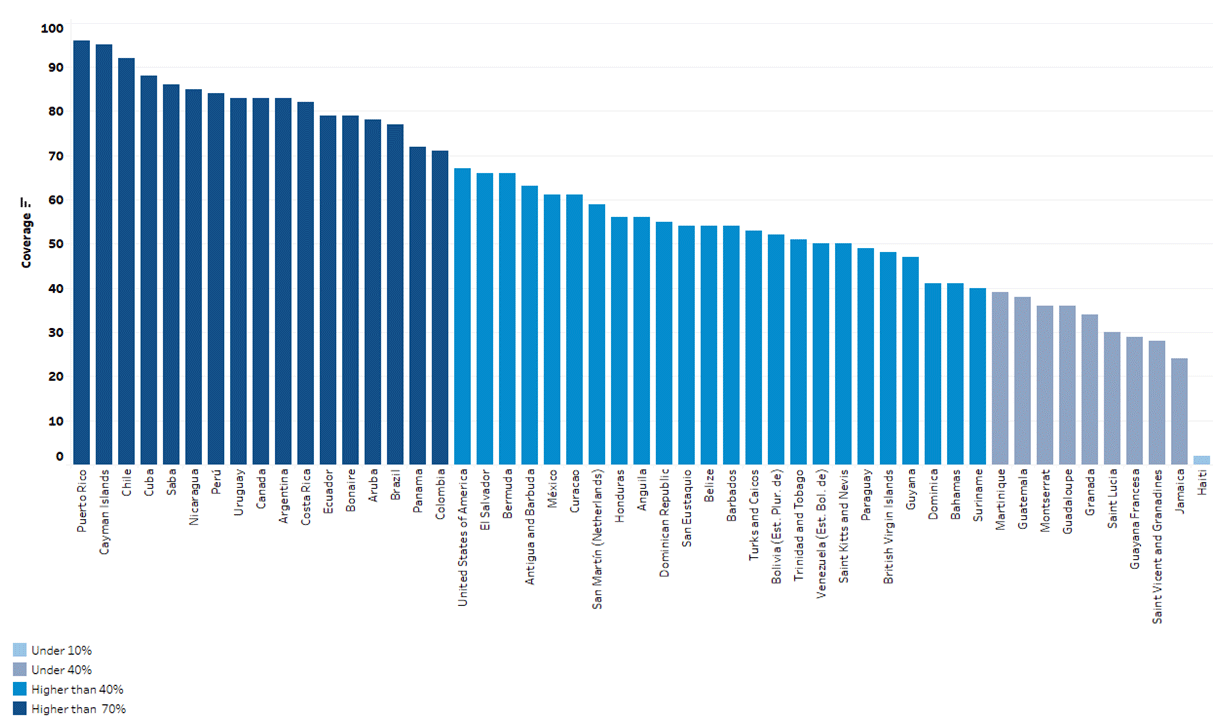 Note: Epidemiological week 36. Indicator of complete series per 100 people. The last dose of the primary series depends on the series established by the country (single dose, second dose, or third dose, as appropriate).
Source: Pan American Health Organization. COVID-19 Vaccination in the Americas. Washington, DC: PAHO; 2022. Available from: https://ais.paho.org/imm/IM_DosisAdmin-Vacunacion.asp.
Following the recommendations of the WHO Strategic Advisory Group of Experts on Immunization (21 January 2022), 50 of the 51 countries and territories of the Region offered at least one booster dose to maintain high levels of protection and prevent severe cases of COVID-19 and death in the general population. As of May 2022, 50 of 51 countries and territories in the Region (except Haiti) offered COVID-19 vaccines to young people under age 18, although children face the lowest risk of severe cases and death. In addition, many countries have not achieved high vaccination rates among the most vulnerable population groups, such as older adults and health workers.
Figure 14. Complete COVID-19 vaccination series in the Region of the Americas, by subregion (%)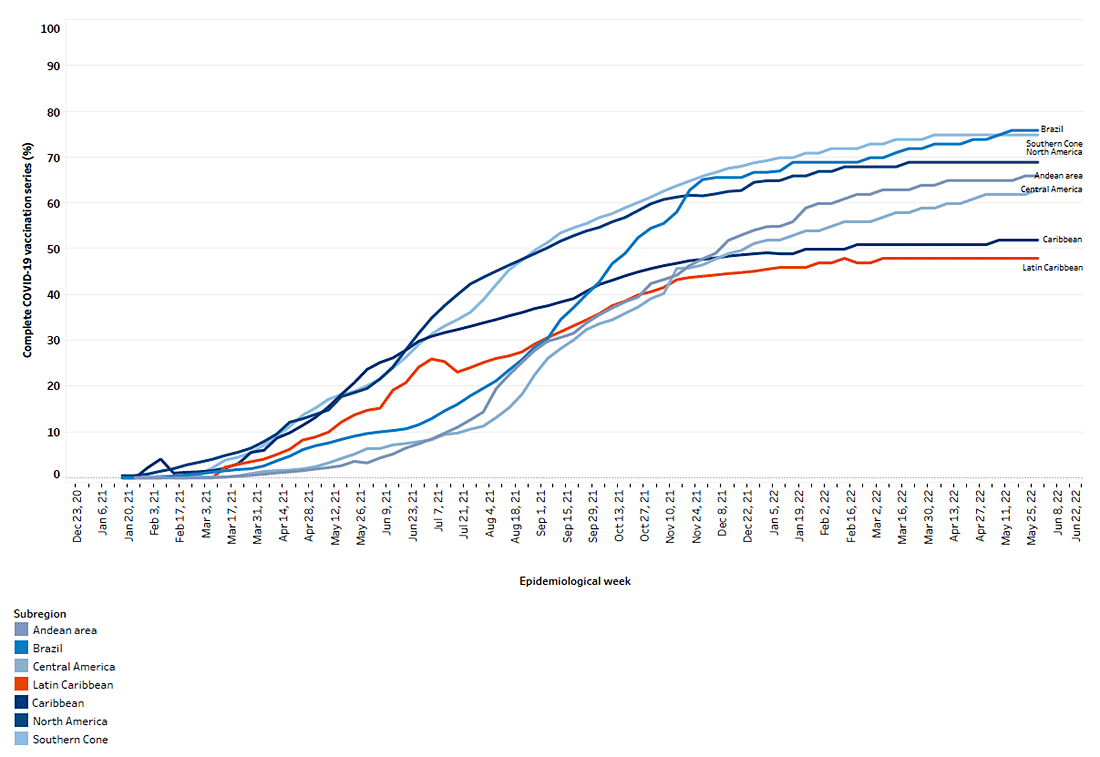 Note: From epidemiological week 3, 2021 to epidemiological week 22, 2022.
Source: Pan American Health Organization. COVID-19 Vaccination in the Americas. Washington, DC: PAHO; 2022. Available from: https://ais.paho.org/imm/IM_DosisAdmin-Vacunacion.asp.
As of 14 September 2022, 73% of total deliveries of vaccines (153 962 670) through the COVID-19 Vaccine Global Access (COVAX) Facility in Latin America and the Caribbean were facilitated by the Revolving Fund for Access to Vaccines, while the remaining 27% were procured directly by countries; 32% were donated by countries from other regions or funded through COVAX, and 68% were self-funded. The main donors are the United States and Spain; and for the non-Latin Caribbean subregion, Canada. The other donor countries are Austria, Denmark, France, Germany, Iceland, Japan, Monaco, Norway, Portugal, Slovakia, Sweden, and Switzerland. The subregions that have benefitted most from the donations are the countries of the Caribbean, Central America, and the Andean region ().
Although vaccination is a key protective factor against COVID-19, vaccine administration has aroused skepticism in some people and certain populations. Vaccine uptake in most countries of the Region is above 65% (). Among the factors that determine the level of uptake, the most important is having information on the vaccine's effectiveness, safety, efficacy, and adverse effects. Refusal to be vaccinated depends on the amount of unreliable information that has been disseminated and on fake news. A study conducted between 15 January and 1 February 2021, which included adults over 18 years of age in 20 countries in the Region, showed an average vaccine uptake of 80%, while 81.2% of the people interviewed expressed fear of possible adverse effects.
A challenge facing the global community is the emergence of new coronavirus variants that could be less susceptible to the vaccine-induced immune response, as well as waning immunity provided by the COVID-19 vaccines authorized or approved by WHO. Given this scenario, it is considered necessary to administer booster doses to maintain high levels of protection and prevent severe COVID-19 cases and deaths.